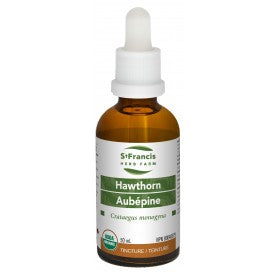 Regular price
St.Francis Hawthorn
---
HAWTHORN
Organic
Gluten Free
Non GMO
Dairy Free
Soy Free
Vegan
Vegetarian
Hawthorn is used in Herbal Medicine to help maintain and/or support cardiovascular health in adults.
Hawthorn is used for cardiovascular conditions such as congestive heart disease and coronary circulation problems. It increases cardiac output reduced by hypertension or pulmonary disease and is used to treat both hypotension and hypertension, as well as atherosclerosis. Hawthorn is also effective as an antispasmodic and diuretic. 
St. Francis Herb Farm's Hawthorn tincture is certified organic.