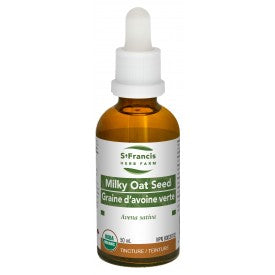 Regular price
St.Francis Milky Oat Seed 50mL
---
MILKY OAT SEED

Organic
Gluten Free
Non GMO
Dairy Free
Soy Free
Vegan
Vegetarian

Milky Oat Seed is used in Traditional Herbal Medicine as a nervine tonic and mild sedative to help relieve nervousness.

Milky Oat Seed is effective in treating depression, debility, stress, nervousness, and anxiety. It also serves to alleviate general prostration from overwork and worry. It is used as well for addiction withdrawal.

St. Francis Herb Farm's Milky Oat Seed tincture is certified organic.