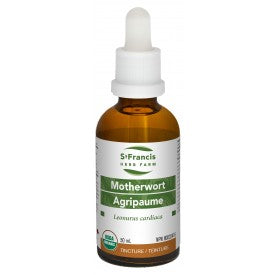 Regular price
St.Francis Motherwort 50mL
---
MOTHERWORT

Organic
Gluten Free
Non GMO
Dairy Free
Vegan
Vegetarian

Motherwort is traditionally used in Herbal Medicine as a sedative for the relief of nervousness and restlessness and as a heart tonic.

Motherwort is used for cardiac symptoms of neurosis, cardiac insufficiency, fast heart rate, and other arrhythmias.

St. Francis Herb Farm's Motherwort tincture is certified organic.