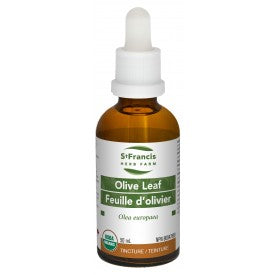 Regular price
St.Francis Olive Leaf 50mL
---
OLIVE LEAF

Organic
Gluten Free
Non GMO
Dairy Free
Soy Free
Vegan
Vegetarian

Olive Leaf provides antioxidants.

Olive leaf is used to treat conditions associated with a virus, retrovirus, bacterium, or protozoan - microbial agents that can induce influenza, colds, meningitis, Epstein-Barr Virus (EBV), encephalitis, herpes I and II, and shingles. 

St. Francis Herb Farm's Olive Leaf tincture is certified organic.