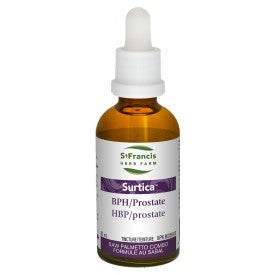 Regular price
St.Francis Surtica 50mL
---
SURTICA®
Gluten Free
Non GMO
Dairy Free
Soy Free
Vegan
Vegetarian
Surtica® is used in Herbal Medicine to help relieve the urologic symptoms associated with mild to moderate benign prostatic hyperplasia (e.g. weak urine flow, incomplete voiding, frequent daytime and night time urination). 
Saw palmetto plays a defining role in this powerful combination of five herbs with proven relevance for the male genitourinary tract. These carefully chosen ingredients balance and complement one another with effectiveness, each of them performing a critical healing function in support of the prostate.
St. Francis Herb Farm uses either certified organic or wildcrafted herbs in our Surtica® herbal formula.