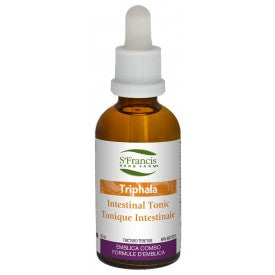 Regular price
St.Francis Triphala 50mL
---
TRIPHALA
Organic
Gluten Free
Non GMO
Dairy Free
Soy Free
Vegan
Vegetarian
Triphala is used in traditional Ayurvedic medicine as an intestinal tonic to promote digestive power and as a rasayana (a whole system tonic) for rejuvenation, recuperation and vitality.
Triphala is a centuries-old formula from the Ayurvedic medical tradition of India, where it is used as a vital aid in the treatment of almost all diseases. Naturopathic doctors agree with Ayurvedic doctors in believing that good health starts in the gut. Triphala helps re-establish the proper functioning of this essential system. This superb herbal combination restores normal tone to the intestines, whatever the case may be - whether poor digestion or chronic constipation or diarrhea.
St. Francis Herb Farm uses certified organic herbs in our Triphala herbal formula.