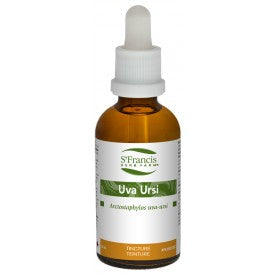 Regular price
St.Francis Uva Ursi 50mL
---
UVA URSI

Organic
Gluten Free
Non GMO
Dairy Free
Vegan
Vegetarian

Uva Ursi is traditionally used in Herbal Medicine (as a mild diuretic) to help relieve symptoms associated with mild urinary tract infections (such as burning sensation and/or frequent urination). 

Uva Ursi is an antimicrobial herb great for both acute and chronic recurring urinary tract infections. Also has diuretic properties.

St. Francis Herb Farm's Uva Ursi tincture is certified organic.