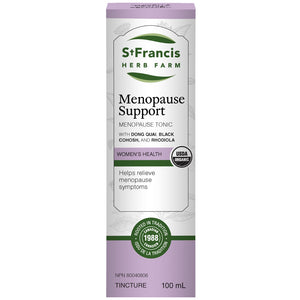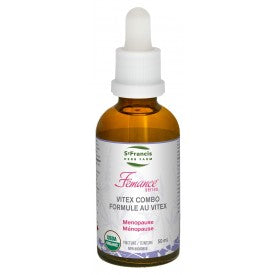 Regular price
St Francis Menopause support (formerly Vitex Combo)
---
VITEX COMBO
Organic
Gluten Free
Non GMO
Dairy Free
Vegan
Vegetarian
Vitex Combo is used in Herbal Medicine to help relieve: (1) symptoms associated with menopause; (2) premenstrual symptoms; (3) pain associated with menstruation; (4) muscle and joint pain associated with rheumatic conditions (such as rheumatoid arthritis, osteoarthritis and/or fibrositis), as well as pain associated with neuralgia (such as sciatica); (5) nervous tension (calmative).
Femance® Vitex Combo - Clear Sailing Through Menopause

Femance® Vitex Combo is a model in itself of the equilibrium it brings to a woman's body during a difficult phase of life changes. The seven ingredients that comprise Femance® Vitex Combo work together in a matchless synergy of complementary herbal actions.

Femance® Vitex Combo contains plants with natural hormone-balancing properties as well as herbal adaptogens which effectively address key symptomatic issues related to menopause, ranging from mood problems to hot flashes. (Adaptogens are healing agents that help the body to adapt to physical and emotional stresses.)

A superlative product, Femance® Vitex Combo provides a safe, naturopathic alternative to hormone replacement therapy.
St. Francis Herb Farm's Vitex Combo ingredients are Wildcrafted/Certified Organically Grown.