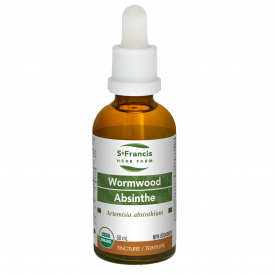 Regular price
St.Francis Wormwood 50mL
---
WORMWOOD

Organic
Gluten Free
Non GMO
Dairy Free
Soy Free
Vegan
Vegetarian

St. Francis Herb Farm's  Wormwood Tincture is an anti-parasitic.

Much prized by the ancients and one of the most bitter herbs known

Expels parasites, particularly pinworm and roundworm

Tonifies gastrointestinal tract

Use Wormwood Tincture if you're trying to get rid of worm infestations, especially pinworm and roundworm.

St. Francis Herb Farm's Wormwood tincture is certified organic.