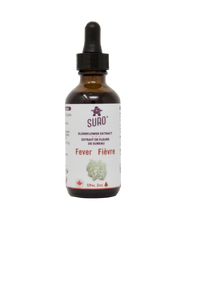 Regular price
Suro Organic Elderberry Tincture with Alcohol 59mL
---
SURO ORGANIC ELDERBERRY TINCTURE WITH ALCOHOL
All Natural
Gluten Free
Non GMO
Can be taken as a natural expectorant
Great for seasonal allergies
Made in Canada from Canadian Elder flowers
Certified Organic
No added water or fructose
Better resistance to heat and light than European elderberry
Approved by Health Canada
SURO® tinctures are highly concentrated plant extracts. The elderberry tincture contains all the concentrated health benefits of elderberries without the added sugar. Effective as a preventative remedy in fighting cold and flu symptoms.
Elderberries are proven* to have anti-viral properties. This elderberry tincture is therefore particularly useful when you are exposed to viruses.
Wether you are traveling to a foreign country or you're in a closed environment deprived of fresh air (airplane, many offices), why not give your immune system a hand and help ward off colds and flu.
SURO® teamed up with Agriculture Canada to determine which of its elderberry cultivar contained the highest level of antioxydants. We now use that particular cultivar to make our elderberry tincture. This insures that our tincture offers the most benefits elderberry has to give.
The elderflower tincture is ideal as a preventative remedy or at the onset of seasonnal or environmental allergies. It is also available in an alcohol-free formula
Both formulas are made from fresh elderberries or elderflowers and are approved by Health Canada.
Ingredients
alcohol*, elderberries*. *organic