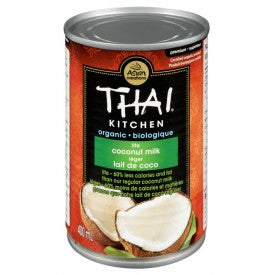 Regular price
Thai Kitchen Coconut Milk Lite Organic 400mL
---
With the same great taste of coconut milk, Thai Kitchen Organic Lite Coconut Milk has 60% less fat and calories. It's made from pressing the same fresh, ripe organic coconut meat from hand-selected organic coconuts picked at the peak of ripeness. The coconuts are processed naturally, without preservatives or chemicals additives. It's the ideal alternative for light versions of Thai curries, peanut satay sauce, soups, beverages and sweets. It can also be used as a non-dairy substitute in recipes.
Certified Organic
First Pressing
Vegan
Dairy Free
Gluten Free
All Nartural, No Preservatives
Ingredients:
Organic Coconut milk, water, guar gum.