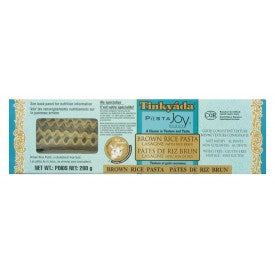 Regular price
Tinkyada Brown Rice Pasta Lasagna 280g
---
Ingredients: Brown Rice, Rice Bran and water.
We keep it simple. We make it great!
Delightful mouth-feel, bite after bite!
Light and not stuffy!
A pasta , al dente, made from RICE & WATER and enjoyed by all... kids, adults and seniors, in an ever greater part of the world. You may have tried rice pasta made from various kinds of ingredients, and still thinking that rice pasta is unpalatable or lacking... now you have Tinkyada Rice Pasta.
Numerous Choices, Regular and Organic.
Wheat-Free, Gluten- Free, Cholesterol-Free, Easy to Digest, Source of Fiber, Kosher Certified, Certified Organic by Organic Crop Improvement Association, OCIA (for organic items) . A Canadian Product made from U.S.A. Rice. Selection of various shapes and flavor, organic and non-organic, retail packs and bulk. Light and not stuffy... and not mushy. A value superb.
Tinkyada Rice Pasta
Determined to be The Best,
Unique and Original
Simply an ode to satisfied customers and the joy of good eating, to the endless researches and experimentation at Food Directions Inc., to the unique manufacturing techniques, and the determination to become the best pasta that is to come from rice...... to the belief that we grow with your support, encouragement and satisfaction. Perhaps, it's time you explored (again) the Tinkyada goodness, and took a (another) pack from the shelf?
Yes, Tinkyada's got it.
100% Quality Oriented! Absolutely Awesome!
that is al dente, a wheat-free, gluten-free alternative to traditional wheat-based pasta, complementing a light diet, and one that's rid of that stuffy after-meal feeling. All you need is to try a bite... you'll be amazed at Tinkyada's gourmet class mouth-feel and consistent texture. Just right. No compromise. Amazed to find it to be amongst the few products that fulfill their mission. Tinkyada's, it is to take over that balance between healthiness and good taste, committed to be the best quality pasta in the world and, LOVED BY ALL.