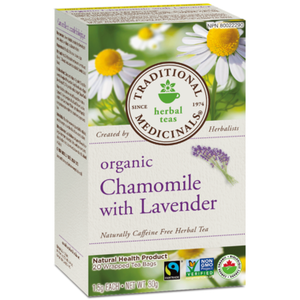 Regular price
Traditional Medicinals Organic Chamomile with Lavender Tea
---
Traditional Medicinals Organic Chamomile with Lavender Tea is used in Herbal Medicine to help relieve mild digestive disturbances such as dyspepsia, flatulence, bloating, and belching.

Features:
Certified organic


Fair trade

Non-GMO

Kosher

Caffeine free

Packaged with 100% recycled carton

Compostable tea bags

Medicinal ingredients:
 Each tea bag (1.5 g) contains: organic chamomile flower 
(Matricaria recutita)*
 600 mg, organic English lavender flower 
(Lavandula angustifolia)
 450 mg, organic lemon balm leaf 
(Melissa officinalis)

 
450 mg.
Cautions:

 
Consult a health care practitioner if symptoms persist or worsen. Consult a health care practitioner prior to use if you are pregnant or breastfeeding. Consumption with alcohol, other medications or health products with sedative properties is not recommended.
Contraindications:
 Do not use if you are allergic to plants of the Asteraceae/Compositae/Daisy family or to plants of the Lamiaceae/Labiatae family.
KEEP OUT OF REACH OF CHILDREN