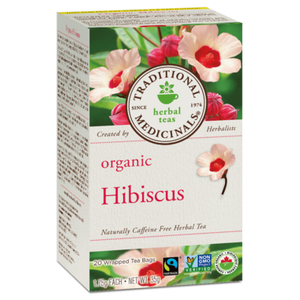 Regular price
Traditional Medicinals Organic Hibiscus Tea
---
You will love this complex blend of hibiscus, blackberry leaf and lemongrass and its tart, tangy, mildly fruity and lemony taste.

A tropical flower that thrives in hot climates, hibiscus can be found in the food, drink and lore of many tropical cultures. As a tea it's often enjoyed with a little sweetener added, sometimes with lime or lemon, and served iced or hot.

Some of the best hibiscus is organically cultivated on farms in the fertile Nile Valleys of Egypt. Traditional Medicinal's purchase of organic and Fair Trade Certified hibiscus ensures that farmers receive a fair trade premium for community development, have fair labor standards, and that it is grown in an environmentally sustainable way. Thus every flower picked contributes to the enhanced livelihood of these farmers.
Features:
Certified organic
Non-GMO
Fair trade
Kosher
Packaged on 100% recycled carton
Caffeine free

Directions:
Pour 240 mL freshly boiled water over 1 tea bag and allow to steep, covered, for 5-10 minutes. Gently squeeze tea bag.
Ingredients:
Organic hibiscus flower (Hibiscus sabdariffa)*, organic blackberry leaf (Rubus fruticosus), organic West Indian lemongrass leaf (Cymbopogon citratus).
*Organic Hibiscus: Fairtrade certified and sourced from Fairtrade producers.
Each tea bag is safety sealed in a tamper-evident envelope.
Traditional Medicinals® is certified by the California Certified Organic Farmers (CCOF)
72% organic ingredients