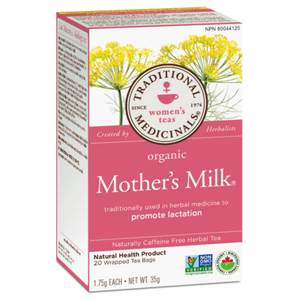 Regular price
Traditional Medicinals Organic Mother's Milk Tea
---
A natural galactagogue, the herbs in this formula have been traditionally used to help promote lactation in breastfeeding women.
Directions for use:
 Pour 240 mL freshly boiled water over 1 tea bag. Cover cup & Steep for 10 minutes. Squeeze tea bag to ensure maximum goodness in your cup. Enjoy 3-5 cups daily.
Medicinal ingredients:
 Each tea bag contains: Organic bitter fennel fruit (560 mg), organic anise fruit (350 mg), organic fenugreek seed (35 mg), organic blessed thistle herb (35 mg).

Non-medicinal ingredients:
  Organic coriander fruit, Organic spearmint leaf, organic West Indian lemongrass leaf, organic lemon verbena leaf, organic marshmallow root.​
Cautions: Consult a healthcare practitioner if symptoms persist or worsen.
Contraindications: Do not use if you are allergic to plants in the Apiaceae/Carrot family, or plants of the Asteraceae/Compositae/Daisy family. Do not use if you are pregnant.
Adverse reactions: Hypersensitivity (e.g., allergy) has been known to occur (rare cases); in which case discontinue use.
KEEP IT OUT OF REACH OF CHILDREN.