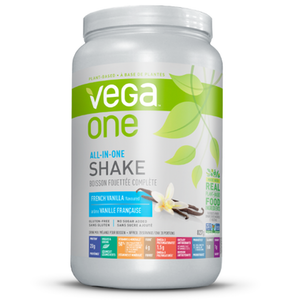 Regular price
Vega One All-In-One French Vanilla Nutritional Shake
---
Made from carefully selected, premium plant-based food ingredients you'd choose yourself if you had the time, Vega One has everything you want  (and nothing you don't) - all in one delicious scoop. 
Features:
NON GMO
Vegan
Gluten Free
No Sugar Added
Recommended Dose (adult): Mix one level scoop of Vega One Shake in 1.5 cups of ice-cold water or non-dairy beverage, shake well and enjoy. Alternatively, blend it by mixing one level scoop into your favourite smoothie recipe.
Ingredients: Pea Protein, Flaxseed, Pea Starch, Organic Acacia Gum, Hemp Protein, Sacha Inchi Protein, Organic Gelatinized Maca Root, Organic Broccoli, Inulin (from Chicory Root), Organic Spirulina, Organic Kale, Organic Marine Algae, Dried Fruit and Vegetable Blend (Spinach, Broccoli, Carrot, Beet, Tomato, Apple, Cranberry, Orange, Cherry, Blueberry, Strawberry, Mushroom), Chlorella Vulgaris, Papain, Probiotics (Bacillus Coagulans), Stevia Leaf Extract, Citric Acid, Dried Fruit Blend (Grape Seed Extract, Organic Pomegranate, Acai, Mangosteen, Organic Goji, Organic Maqui), Natural Flavours.
May contain traces of peanuts, milk, soy, eggs, tree nuts, and mustard seeds.