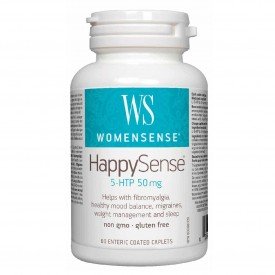 Regular price
WomenSense Happy Sense 5-HTP 50mg 60 caplets
---
HAPPY SENSE
5-HTP 50 MG
Helps promote a healthy mood balance
Improves sleep
In conjunction with diet and exercise, helps to aid weight loss and reduce cravings
Helps to relieve symptoms of fibromyalgia
Helps reduce PMS
Enhances seratonin levels
HappySense, with 5-HTP, naturally enhances serotonin, which in turn improves mood, reduces cravings and increases energy. Healthy levels of serotonin help to deal with stressors leaving a feeling of relaxation and calm.
Low serotonin levels are usually associated with sleeping disorders, however, they can also cause many other symptoms including:
Fatigue, emotional outburst and irritability, increased sensitivity to pain, moods, cravings for carbohydrate or sugar and disruption of the normal sleep cycle.
5-HTP, the significant ingredient in HappySense, has been clinically shown to be of benefit for chronic and migraine headaches, binge eating associated with obesity, and insomnia. 5-HTP has also been extensively researched for the treatment of mood, and other sleep disorders. 5-HTP allows for natural sleep without the drugged feeling of prescription medication in the morning.
Medicinal Ingredients
| | |
| --- | --- |
| L-5-HTP (L-5-hydroxytryptophan) (Griffonia simplicifolia) (seed) | 50 mg / 100 mg |
Non-medicinal Ingredients
Dibasic calcium phosphate dihydrate, purified water, microcrystalline cellulose, enteric coating (purified water, ethylcellulose, medium chain triglycerides, oleic acid, cellulose, glycerin, sodium alginate, stearic acid), vegetable grade magnesium stearate (lubricant).