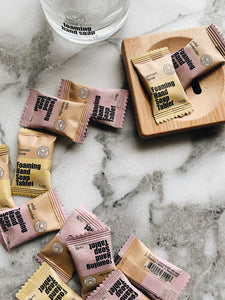 Regular price
Zero Waste Foaming Hand Soap Tablets
---
Say goodbye to plastic hand soap containers with these simple-to-use, zero waste soap tablets. Natural and non-toxic, our soap tablets wash away germs with a moisturizing yet effective cleansing formula.  Simply fill with water and drop in a tablet for 250mL of foaming hand soap to wash away dirt and grime.
Shop the Starter kit! 
Includes 1 Foaming bottle and 2 plastic-free refill tablets
Makes 2 bottles of foaming Hand Soap in 2 scents (Lemon Love and Wild Lavender)
Each tablet makes 250ml of moisturizing hand soap and lasts 6 weeks on average with frequent usage.
How to Use:
1.  Simply drop one tablet into your foaming soap bottle. 
2.  Fill with 250 mL of warm water.  Wait 30 minutes, or until tablet dissolves completely.  
3.  Use and repeat!  Refill when finished. 
Ingredients: Citric acid*, sodium benzoate, sodium dodecyl sulfate*, sodium bicarbonate, sodium lauroyl glutamate*, glycerin*, disodium EDTA (salt derivative), polyethylene glycol, fragrance